Please scroll to the Bottom to Purchase Tickets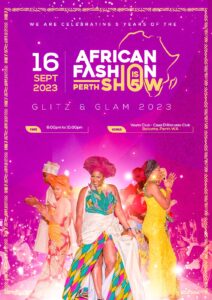 WHAT IS THE AFRICAN FASHION SHOW
The African Fashion Show is an annual coming together of Australia based creative artists to present their contemporary fashion designs to the public. Throughout the year, the designers have been working on different pieces, putting together a variety of colourful fabrics with accompanying accessories in ways that represent their individual take on fashion to present niche.
Fashion is dynamic and the designs curated at our shows are selected based on how well they set the pace or represent the current trends in African fashion. They are our designers' passions brought to life in the apparels, footwears, hairstyles, adornments, and accessories that are gracefully presented to the audience at the show by our models.
It is truly a magnificent night at which Africa is presented to the world, using fashion as the medium of expression. In doing so, the fashion conversation in Australia is enriched with narratives of African fashion as Australians of diverse heritage get introduced to African culture. The show thus helps to foster an understanding and appreciation of diversity across backgrounds.
The night starts with an opportunity for attendees to network and have light drinks before the doors open. This will be followed by a dance performance and then the Parade of Nations at which African traditional culture in dressing are put on display. The highlight for the night is when our beautiful models take the centre stage with the selectively curated dresses designed here in Australia by creatives of African ancestry. Live music of the African genre will fill the hall and at the Market Place, attendees are spoilt with choices of fabrics, ornaments, hair adornments, paintings and fashion related items which are available at discounted prices only during the show.
It promises to be a night of fun, laughter, and entertainment. We look forward to seeing you at the Perth Show which is a reference point for pacesetting and discussions centred on African Fashion in Western Australia.
Past events have featured on ABC news and SBS was at hand to cover the 2022 show. This multicultural event is well attended. Last year, we had in attendance the Mayor of the City of Stirling, the Minister for Small Businesses, the President of the Organisation of African Communities In WA as well as Hon. Ayor Makur Chuot – the first black woman in parliament.
It gets better, 10% of all tickets sold at our shows are used to fund charitable causes, so by attending you help in accomplishing this. You will also have the opportunity to receive a complementary copy of Nefertiti, the magazine of the African Fashion Shows, at no extra cost! Nefertiti displays on its glossy pages the best designs that have been modelled at our shows.
Early Bird
Qualify for this next level low price if purchased before date shown
Actual Ticket Price: $110
Processing Fee 4%: $4.40
Displayed Price: $114.40
Standard Ticket
Save a $15 by purchasing your standard ticket before hand online.
Actual Ticket Price: $125
Processing Fee 4%: $5
Displayed Price: $130
The general tickets include:
• A gift bag (containing goodies and vouchers
• 1standard glasses of wine
• A bottle of water
• A soft drink
• 2023 Nefertiti magazine
• African Fashion Show 5th anniversary pin/brouch
• A pack of take away finger food snacks.
Student Tickets
These are at a special offer price of $80 when valid student ID is presented. Kindly note that failure to present valid ID renders voids ticket with no refund.
Actual Ticket Price: $80
Processing Fee 4%: $3.20
Displayed Price: $83.20
VIP TICKET
• Front row seating
• A gift bag
• 2 standard glasses of wine
• A bottle of water
• 2023 Nefertiti magazine
• African Fashion Show 5th anniversary pin/brouch
• A dinner voucher (worth $30) on us at Afro Authentic Cuisine
• A picture with the curator of African Fashion show
• A pack of take away finger food snacks
Actual Ticket Price: $160
Processing Fee 4%: $6.40
Displayed Price: $166.40